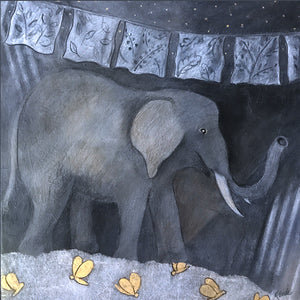 Karen Eide Studios
Prayers
Regular price
$150.00
Sale price
$295.00
From an ongoing series of Karen Eide's ~ the Elephant and the Bee. These paintings are inspired by Dr. Lucy King's discovery that when bee boxes are hung between fence posts, elephants are dettered from trampling farmer's crops because of their fear of bees.
8 x 8" mixed media: acrylic paint, colored pencil, graphite, wax. Framed in a black floater frame with overall dimesions 9.5 x 9.5" Original painting. 
All Images ©Karen Christine Eide. All rights reserved.